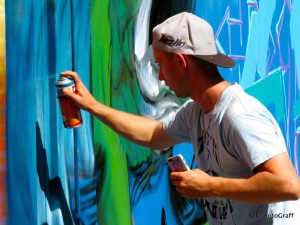 WHYRE (POSK/KAC Crew)
Né le 28 décembre 1987, Whyre est un artiste issu du milieu graffiti actif depuis 1999 et résidant à Genève (Suisse).
Whyre, de part son envie de voyager, a réalisé plusieurs fresques dans différents pays du monde : Brésil, Cuba, Colombie, France, Allemagne, Italie, Angleterre, Canada, Belgique, Espagne.
Aujourd'hui, après avoir réalisé différents projets artistiques pour des entreprises, services communaux & étatiques, associations, privés, etc, il est disposé à offrir différentes prestations.
Pour toute informations, questions, demande de devis, vous pouvez envoyer un mail ici (Cliquez)
---
WHYRE (POSK/KAC Crew)
Born in December 28th, 1987, in Geneva (Switzerland), Whyre is an artist from the graffiti community since 1999.
Due to his desire to travel, Whyre executed paintings in a lot of countries around the world: Brazil, Cuba, Colombia, France, Germany, Italy, England, Canada, Belgium, Spain.
Today, after worked in artistic projects for companies, municipal & states services, associations, private, etc., he is offering different services.
For any informations or questions, you can send an email here (Click)